Here we are a week into the playoff push and the Red Sox are still atop the AL East by 2 games. They've gone 4-3 this week with some great offensive outbursts but also continue to be terrible in games where they score less than 4 runs. They are like 13-53(?) in games they score less than 4 runs and in a league of their own in the other games 68-12(?) This week has been a microcosm of their entire season. Up and down all week but if you tell me our season will end with as much excitement as this week did, I will take it!
Last night the Yankees took a 3 run lead into the 9th and brought out their prized bullpen possession to shut down the Red Sox who had only scored 5 runs in the previous 26 innings. Aaron Hill struck out and the win percentage dropped to 1.7%. But how about those pesky Red Sox huh? They hung around and the stars did what stars do and came through in the clutch! Peddy draws a walk, Xander gets on base, Papi singles and scored Peddy, Mookie singled and score Boagaerts, and then Hanley unleashed a bomb into the center field bleachers, (Same spot Big Papi went deep earlier in the game to pass Mickey Mantle on the all time HR list) and Ball Game!
This is the 3rd time the Red Sox hit walk offs against the Yankees in September in the last 10 years….the previous two years? They went on to win the WS. I said it last week this playoffs push will be exciting, it will be frustrating, and it has the potential to end in something great. It was absolutely an amazing win last night that was by far the most exciting win for Red Sox nation all season. It wasn't technically a must win but it certainly felt like it after being shut out by the Orioles the previous night. The stars are aligning at the top of the order and raking (in most games), the pitchers seem to be hitting their stride (Porcello did take his first home L in the 1-0 game against the Orioles), and johnny F isn't being a dumbass. All in all this first week of the stretch gets an A- given the offensive onslaught in their wins, porcellos great performance despite an L and of course the Walk Off against the NYY!
Live look at Mr. Jersey last night.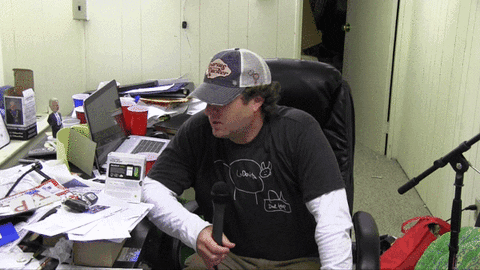 Let's Go Sox!
Doc
Ps. Just a quick reminder, the season over/under for games behind the Yankees are from the Red sox is 5.5. Mr. Jersey (under) and I (over) have a wager on that 5.5 number where the loser buys the other tickets to the opposing teams ballpark. Just another thing to get excited about down the stretch!