Via Daily Mail: Teenagers born after 2000 – the so-called 'Generation Z' – are the most socially conservative generation since the Second World War, a new study has found. The youngsters surveyed had more conservative views on gay marriage, transgender rights and drugs than Baby Boomers, Generation X or Millennials. The questioned were more prudent than Millennials, Generation X and Baby Boomers but not quite as cash-savvy as those born in 1945 or before. Sociology experts class those born in or before 1945 as the Silent Generation; people born between 1946 and 1964 as Baby Boomers; those born between 1965 and 1980 as Generation X; and anyone born between 1980 and 2000 as Millennials. Again only the prewar generation came ahead of today's teenagers for holding an even more shrewd financial head. As well as being more socially conservative, more than 10 per cent of teenagers were more likely to avoid tattoos. 
You know how as you get older you start to like fewer and fewer new things and everyone that's younger than you starts to seem like a bunch of assholes? People generally chalk that feeling up to being stuck in their ways and having more of a connection to the things that were popular when they were the younger generation. But you know what? It turns out today's teenagers actually are just a bunch of assholes.
Really though we shouldn't be surprised based on the current social climate of protesting anything and everything you can think of and unleashing the social media outrage monster at any given opportunity. But, come on, 'Generation Z'. Ya'll aren't down with the gays? You don't like to taste the devil's lettuce? You're scared of fucking tattoos and don't like to spend money?! What the fuck? We have an entire generation of teenagers that are 16 going on 85 running around out there. It's a good thing you crotchety old young bastards can't vote yet or Trump would win this thing in a landslide. What constitutes a fun weekend for you guys, watching Murder She Wrote and getting into bed at a reasonable hour? For fucks sake live a little would ya. Haven't you heard we're all just living in a simulation anyway?
The most mindblowing part of this study by far is that apparently Generation Z kids are the most financially responsible group of people since before World War II. So statistically speaking, it's more likely that you'll get your Grandpa to go out and have a wild weekend of carefree spending than you are you're little brother. All this technology and the ability to buy literally anything at the touch of a button and these kids are pinching pennies and getting started on their 401K's, FOH.
The next time you have a run in with a teenager that rubs you the wrong way and you think to yourself, "Oh I'm just old and out of touch.", just know that it's not you. That kid was definitely an asshole. The numbers say so.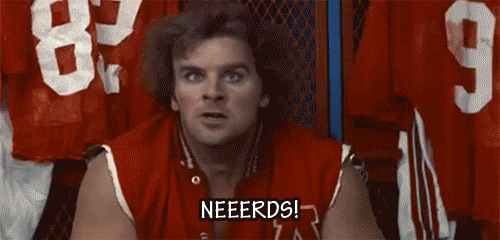 -Mr. Jersey
Follow On Twitter
@Blog30tweets
@De_Italiano