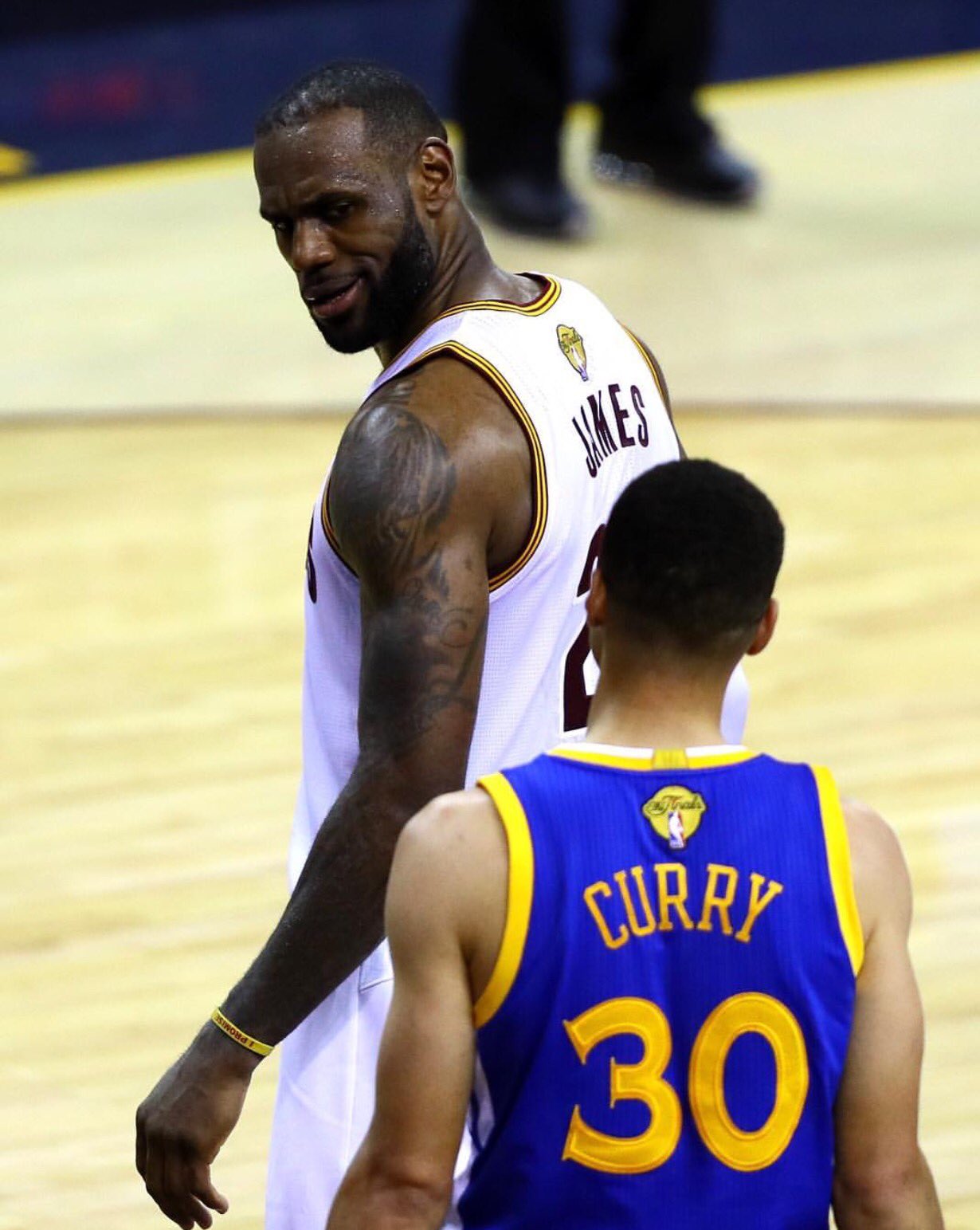 Thursday night was incredible. It was enthralling. It was one of the most entertaining sporting events I've ever had the pleasure viewing. Lebron James proved (not that he needed to) that he is unequivocally the greatest player in the world. If you are still trying to argue that he isn't, please just know that you're wrong. Back to back 40 point games, 86 minutes played, and leading both teams in almost every statistical category, the man stared elimination in the face and went Super Saiyan on it's ass. So now we go to Game 7 with Larry O'Brien on the line. With one game left in the season Steph Curry has somehow become the villain, the Warriors are reeling, and Kevin Love is still missing in action. Legacies will be solidified, perceptions will be altered, and win or lose the people of Cleveland will probably burn the city to the ground. For all the other entities involved in Game 7 a win or a loss will drastically change how they are viewed. Here's how:
**Disclaimer: I'm a Knicks fan, I don't really have a dog in this fight. I like Lebron but I'm not a diehard for either of these teams. Coach is our resident Cavs superfan but he's too afraid to blog about this series out of fear of jinxing it or some shit. Even though he declared the Cavs done when they went down 3-1. You know what Mr. Jersey said? Cavs in 7.
Draymond Green

Win: A Warrior's win in Game 7 erases his suspension from everyone's memory and turns him from "dirty" to "hard nosed". That's the fine line players like him walk. When they're winning their antics are accepted as passion but when you lose, and when those antics puts your team in the position to lose, the public perception is much less friendly.
Loss: A loss at home on Sunday and the spotlight will all of a sudden start to feel very hot for Mr. Draymond. Especially if he doesn't improve on his current stretch of three straight games scoring in single digits. His next year will be spent listening to the media discuss the fact that his Game 5 suspension was the ember that started the fire that became the Cavs comeback. You have to wonder if having to swallow the majority of the blame for the 73-9 Warriors not winning the title will start to affect how he behaves and plays. Love it or hate it, Draymond Green is his swagger and tenacity. If he starts trying to turn that off he will not be the same player.
Kevin Love

Win: If the Cavs pull off the comeback and Love continues to play in a way that makes Twitter erupt with jokes at his expense the title will really just save him from being a scapegoat. Also he'll get to be in a parade, so that will be nice, he seems like a guy who likes parades. To me Love's time in Cleveland is up no matter what the outcome of Game 7. It's better for the Cavs and it's honestly better for Kevin Love if they trade him to a place where his style of play actually fits with what the rest of the team is trying to do. I've been saying this for two years now, it makes absolutely no sense to pay Kevin Love what they are paying him just to stand in the corner and be an average 3pt shooter. I hope Kevin Love gets his ring and finds somewhere he can be Kevin Love again.
Loss: I say, with zero hyperbole, that the Cavs losing on Sunday could permanently derail Kevin Love's career. Like I said above I think he's off this team next year no matter what but at least if they win the title he has a chance to lay low and regain his confidence. If they lose, Kevin Love is getting the majority of the blame and ALL of the Lebron subtweets. Kyrie has done enough to support Lebron to avoid the brunt of the blame for this loss. Kevin Love has been more valuable when on the bench with foul trouble than he has been when on the floor. In Game 6 it was when Kevin Love was on the floor at the end of the 3rd quarter that the Warriors were able to trim what was a 21 point lead down to nine in what seemed like a minute and a half. During that run Klay Thompson was able to exploit Love on defense for three baskets in about 25 seconds. The matchups in this series are a special kind of nightmare for Love but nobody is going to be willing to give him the benefit of the doubt when Kyrie and Lebron are putting up other worldly numbers.
Kyrie Irving

Win: If Kyrie wins this title he will have officially outscored the narrative that he's a turnstile on defense, especially if he continues to be a true #2 for Lebron. Talking heads are much less inclined to point out a pure scorers defensive deficiencies when he has a ring on his finger. He also immediately becomes the 2nd most important Cleveland Cavalier of all-time. A 23 year old, homegrown #1 overall pick, who is the primary support piece to the deity Lebron James, and helped bring home Cleveland's first title in 52 years? Yeah that guy is getting a free pass, no matter how he performs on defense, for the rest of his career. It also has to be noted that if they win this game you are forced to concede that Kyrie outplayed two time MVP Steph Curry in the NBA Finals. He then gets to truly be apart of every best PG in the NBA conversation.
Loss: Obviously losing in Game 7 of the NBA Finals after you fought back from a 3-1 hole would be devastating. But with the way Kyrie has played in this series he has positioned himself to escape this loss in a positive light. The Cavs were not supposed to beat the 73 win Warriors anyway so the fact that Kyrie has elevated his game in this series (27ppg, 40% shooting on threes) to a place where people are saying he outplayed Steph Curry is quite the accomplishment. It seems like he has been around for a long time already but you have to remember that Irving is only 23 years old. A tough loss like this could potentially motivate him to improve his game and propel him to another level. Plus, having Kevin Love crap the bed will certainly make the fallout easier on Kyrie.
Steph Curry

Win: If the Warriors pull themselves out of this recent funk on Sunday and win back to back NBA Championships ,and consequently complete the greatest season in NBA history, Steph Curry officially becomes the face of the NBA. Lebron may have outplayed him pretty handily in this series but if the Warriors finish this off none of that matters. All that matters is that Curry will have all of the following accomplishments to his name; greatest single shooting season ever, greatest team season ever, back to back NBA Finals victories earned while defeating one of the two best players of all time. With a resume like that he could hit a hundred fans with his mouthpiece while his wife tweets an endless stream of nonsense and it won't matter. He will be Teflon Steph the rest of his career.
Loss: "Did the season wear him down?", "Should he have been the MVP?", "Was their first title a fluke?", "Can you really win in the playoffs shooting all those threes?", "Is Klay the real lead dog?". Steph better get used to hearing all of those questions and more if they let this 3-1 series lead slip away. He has been handily outplayed by Lebron in this series (and arguably by Kyrie as well) and is clearly frustrated. Going into Game 7 he has also done the unthinkable and made himself a villain in the public eye after his antics at the end of Game 6. If the Warriors don't win, and if Steph isn't a big factor in that win, he is going to have to prove himself all over again next season. Also, as Scottie Pippen would say, 73-9 don't mean a thing without the ring. If they lose Steph's 73 win, 400+ three, unanimous MVP season ends up being remember the same way the '07 Patriots going 16-0 does. There will always be a, "Yeah but. . .", which is a shame. But it you really are the player that is revolutionizing the NBA you need to find a way to win the game.
Lebron James

Win: We are one Cavs win away from Lebron James being untouchable from all hate and doubt. The man already has two titles, four MVP's, and his fingerprints all over pretty much every all-time NBA record. Yet people still try to downplay his greatness and were more than happy to anoint Steph Curry the best player in the world.  If he is able to comeback from a 3-1 series deficit and defeat the greatest regular season team in NBA history, while putting his team squarely on his back, you have to start making room for him on the highest shelf right next to Michael Jordan. Yes it's still 3 titles to 6 but Lebron will own the single most impressive title in that group and that has to mean something. The man is averaging 30 points, 8.5 assists, and 11 rebounds, while shooting 51% from the field, and 40% (!!!) from downtown. Are you kidding me? Not to mention the fact that he's also playing the entire 2nd half of most of these games and playing smothering defense all over the floor. HE'S LEADING BOTH TEAMS IN EVERY STATISTICAL CATEGORY. If Lebron pulls this off "James" and "Jordan" become one and the same, and I won't hear differently.
Loss: The only word I can think of right now is, "deflating". To have gone to six straight finals and only come away with two titles will certainly be tough for Lebron to swallow and will give his haters plenty of ammo to use against him in "Greatest of All Time"arguments. You have to think at some point these losses are going to start wearing on him, especially one like this where he will have come so, so close to something extremely special. How many more times can he get back here in the 5 or 6 peak years he has left? How many more years will the East stay this week? Will he ever be able to construct the exact team he needs to vanquish the Warriors? In the post game presser following the Game 6 win, Lebron struck me as incredibly calm and focused. He knows how much getting this specific title means to his city, his team, and his legacy. Even if he is able to win another one down the road I'm certain he will always regret that he didn't get this one.
**BONUS** JR Smith

Win: JR SMITH WILL BE A FUCKING NBA CHAMPION PEOPLE. Everybody getting the pipe. Watch out folks. Also his daughter is cute as hell and a ball buster so I want to see JR get this thing. He was frustrating as a Knick but it's just hard not to like this guy.
Loss:

C'ya!
Cavs in 7.
-Mr. Jersey
@blog30tweets
@De_Italiano