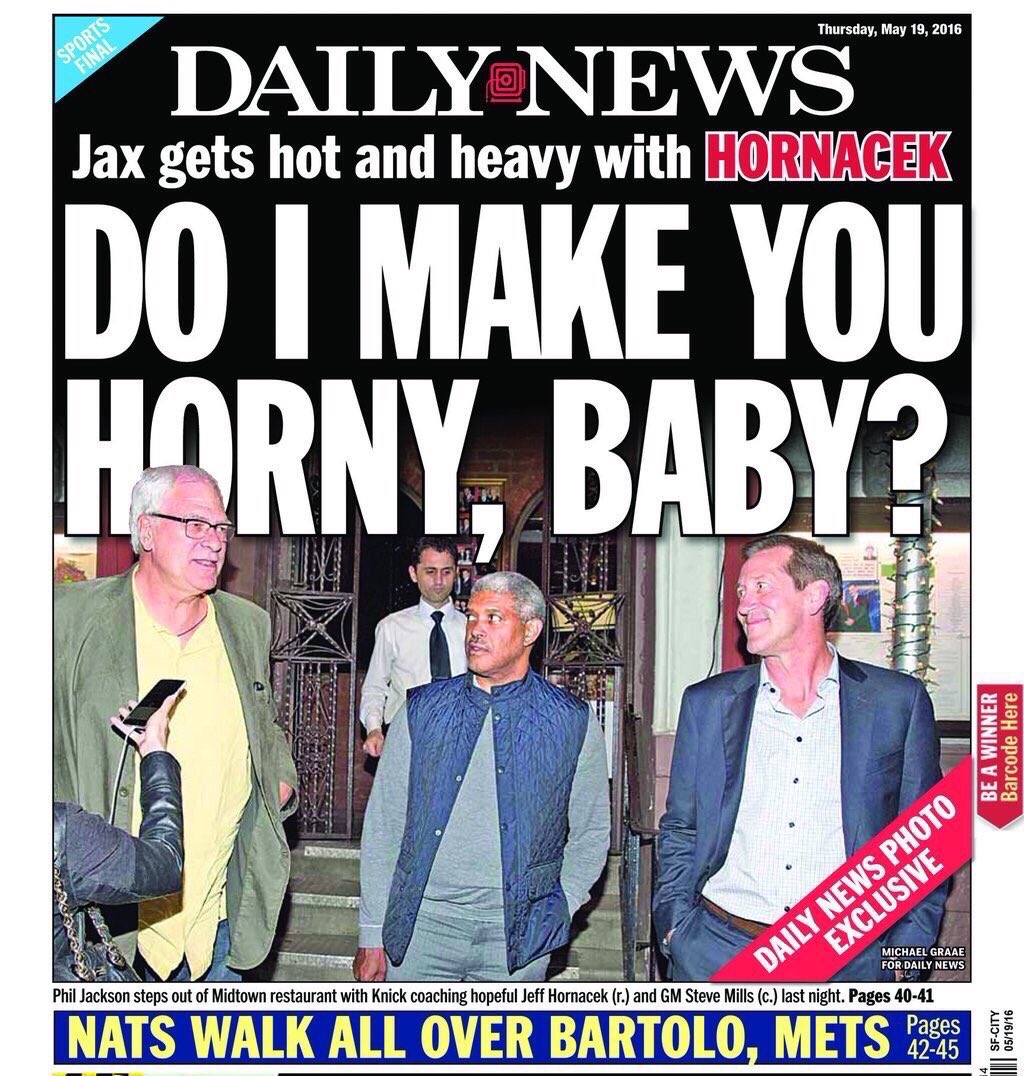 Via NY Post: In a Phil Jackson stunner, the Knicks were zeroing in on former Suns coach Jeff Hornacek as their coach. A Hornacek hiring would end a bizarre search going on five weeks Thursday and could put an end to the triangle era, according to an NBA source. Jackson didn't interview Hornacek until Monday. But those two were joined by general manager Steve Mills for dinner Wednesday night at a back table at Nino's Tuscany Steakhouse in Midtown, diners confirmed. A source said the club didn't reach out to his reps until at least two weeks into the search process.
Phil has returned from his (likely) peyote fueled romp across Montana and actually hired a god damn head coach. This was, in a word, surprising. I personally hadn't even heard the whispers that Horny was getting an interview and then poof, all of a sudden he's our coach. Hornacek isn't Thibodeau and at this point he isn't even Vogel. Either of those guys would have been the best we could have hoped for. Obviously the Knicks were never going to do the best thing, cause their the Knicks, but I for one am just happy they didn't do the worst thing and rehire this moron:
Hornacek has a career coaching record 101-112 but back in 2013-2014 he led a surprising Suns team to a 48-34 record in the very difficult Western Conference. After that season Suns owner Robert Sarver started doing a bunch of crazy shit and really ruined what was an interesting roster by loading it with about 15 PG's (ironic since the Knicks as of now have zero PG's) so Hornacek was set up for failure and was eventually fired after the team started this season 14-35. He is a guy kind of from the Mike Dantoni school of high paced offense which is a polar opposite from Phil's triangle or die philosophy. The best news though is that people are now saying that Phil isn't going to force the triangle on Hornacek. Here's Jeff Van Gundy discussing that after the Hornacek news broke yesterday.
So after spending a $25,000,000 on Derek Fisher and then promoting Kurt "female masturbation is my favorite" Rambis it seems like Phil is finally coming to his senses. Even though this hire can't be considered a home run it's a least a solid double down the line and Knicks fans can be happy with that for the time being. At the end of the day the coach of this team is never going to be as important as Melo's mood or Porzingis' growth as a player. As of now it seems like Hornacek will serve to improve both of those things.  Now can someone please go find us a fucking point guard?
-Mr. Jersey
@Blog30tweets
@De_Italiano